Transfer from VHS, VHS-C, video 8, Hi 8, DV, Mini DV and more. We also transfer movie film.
Camcorders made it possible for us to easily capture our cherished memories on video, but they also made it necessary for us to set aside valuable space in our homes to store all those tapes! VHS, VHS-C, video 8, Hi 8, DV, Mini DV and more. In addition, video and audio tapes degrade over time, and the process is accelerated each time you watch and listen to them. Patchin Pictures will transfer or convert your video and audio tapes to CD, DVD, and/or data files, making them not only easier to enjoy and share with family, friends, colleagues, and customers, but also preserving them to media that won't degrade over time or with use. Our in-house transfer process results in high-quality transfers of your tapes to disc media and/or multiple file formats so you can edit the material yourself or upload it to the web. And your treasured video and audio doesn't leave our building until the work is complete. We offer a range of video file sizes and resolution options to meet your needs. Transfer your important tapes to DVD, Blu-ray, and/or video files with Patchin Pictures today.
Call 702-240-6777 for prices or use the contact form below.
We transfer from files, tapes, camcorders, hard drives and more. We have a wide variety of packaging and printing options available, and you can have Patchin Pictures design your graphics, or provide your own.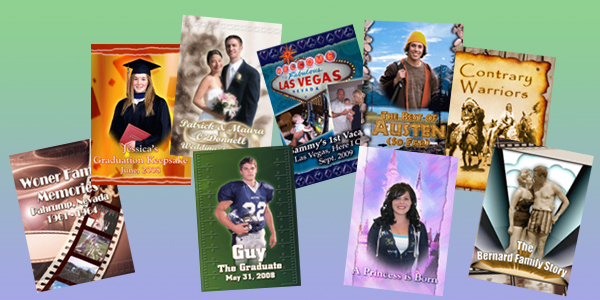 Tape Formats and Video File Formats
Tape to DVD transfers are a great way to preserve your important home videos.  Patchin Pictures DVD Transfers include transfers from VHS, VHS-C, Super VHS, Video 8, Hi 8, Digital 8, mini DV, DV, DV Cam, U-Matic, Betamax, ¾ tape, Beta SP and more.  Video transfers are different from copies in that copies usually involve making more of the original as-is.  A video transfer means playing the original tape and recording that video on a different medium, such as DVD.  DVDs are digital in that the information is recorded as ones and zeros on the disc.  Most tapes are analog; the information is recorded on magnetic tape.  The relatively newer exceptions are digital 8, DV and Mini DV, which are digital.  When we transfer video at Patchin Pictures, we make DVDs.  We also make stand-alone video files that can be shared easily on various computers.  A common video format that is compatible with many computer systems and software is MP4.  Getting MP4 files of your transfers is another way to back up your home movies and easily share them.  You can even upload your MP4 files to social media sites.  Patchin Pictures does video transfers to DVD as well as file conversions to many video file formats.  In simplified terminology, the following could be considered common video file formats:  MP4, AVI, MOV, WMV.  But to be more technical, these types of files require specific settings and codecs that can make them very different from one another.
Evolution of Video Tape, Video Cameras and Camcorders
Video tape sizes and formats evolved differently for consumer use and professional use.  Early video tape formats were very poor quality.  The tape sizes ranged from two inch video tape, one inch video tape, ¾ inch video tape and half inch video tape, and later 8mm video tape and the even smaller DV video tape.  These sizes were used in different ways with improving quality through the years.  Professionals used the larger tape sizes for better quality until technology improved.  The first portable video tape cameras in the 1970s did not have recorders attached directly to them.  The record decks were separate, and were attached by a cable.  It typically took a two person crew to shoot video, one to carry and operate the camera, and one to carry and operate the recorder.  These first mobile video systems typically used ¾ inch video tape.  When recording technology and video formats improved, ½ inch video tape became the standard for broadcast purposes.  The format Beta SP (not to be confused with Betamax) was used in broadcast for many years and allowed for the invention of the first practical professional camcorders, with the camera and recorder together in one unit.
The first consumer video format was VHS.  It allowed everyday people to shoot video with a camcorder.  Eventually, as technology allowed for cameras to be smaller, VHS-C was invented.  VHS-C is not a different format from VHS, but is actually the same ½ inch tape size put in a compact cassette (thus the "C" in VHS-C).  VHS still remains the poorest quality tape format, and unfortunately, this was the format adopted as the main way to distribute movies for people to watch at home.  In the early days for VHS, Sony introduced Betamax, another ½ inch format that was noticeably better than VHS, but it was never widely adopted, ultimately losing to VHS because multiple manufacturers could make and distribute equipment that used VHS, but only Sony had the rights to Betamax.  At Patchin Pictures, we do transfer Betamax to DVD.  8mm video tape and Hi8 video tape were big improvements over VHS, and the camcorders were smaller, too.  These formats came along in the 80s.  The next consumer advancement came with DV (digital video) tape and camcorders.  Many of these are still used today.  Patchin Pictures does transfer 8mm, Hi8 and DV to DVD.
The Move to High Definition Video
All the formats discussed above are considered standard definition video.  High definition video is a huge improvement over standard definition video.  All professionals and most consumers now use HD for shooting and viewing.  Even smart phones now shoot HD video.  The old tape formats, however, are standard definition (SD) and transfers from SD can never truly be increased in resolution so that they would look as clear and clean as original HD footage.  DVD transfers from SD sources, however, can be played on Blu-ray players to HD TVs and look better than DVDs played back to SD TVs.  Basically, transferring your home movie tapes to DVD so that they are played back on Blu-ray players will provide a very nice quality experience.  Patchin Pictures transfers most videotape formats to DVD, including VHS to DVD, Super VHS to DVD, 8mm to DVD, Video 8 to DVD, Hi8 to DVD, VHS-C to DVD, DV to DVD, Betamax to DVD, ¾ to DVD, Umatic to DVD, Beta SP to DVD.
Video File Conversions to DVD, Blu-ray and Hard Drive
Now that people are shooting HD video regularly, many find that playing back their video is difficult.  That is why Patchin Pictures transfers video files to DVD and converts video files to other video file formats, including HD formats.  We also copy DVDs and CDs as well as edit videos of all types for consumers and businesses.
Transfer Your Home Movies to DVD, Blu-ray, Hard Drive Today
Patchin Pictures transfers home movies to DVD and Blu-ray, including tapes and movie film.  Don't confuse 8mm movie film with 8mm videotape, but if you need either transferred, Patchin Pictures can do it for you.  If you need your movie film transferred, check out our film transfers page here:  https://patchinpictures.com/film-transfers/.  We do all our transfers right here in our Las Vegas studio, and we've been in business since 1997.  Patchin Pictures Video Transfers and film transfers are high quality, and your home movies, whether they are home videos or films are safe with us.  Give us a call at 702-240-6777 or fill the form to the right to get started today.  We look forward to helping you preserve your memories.